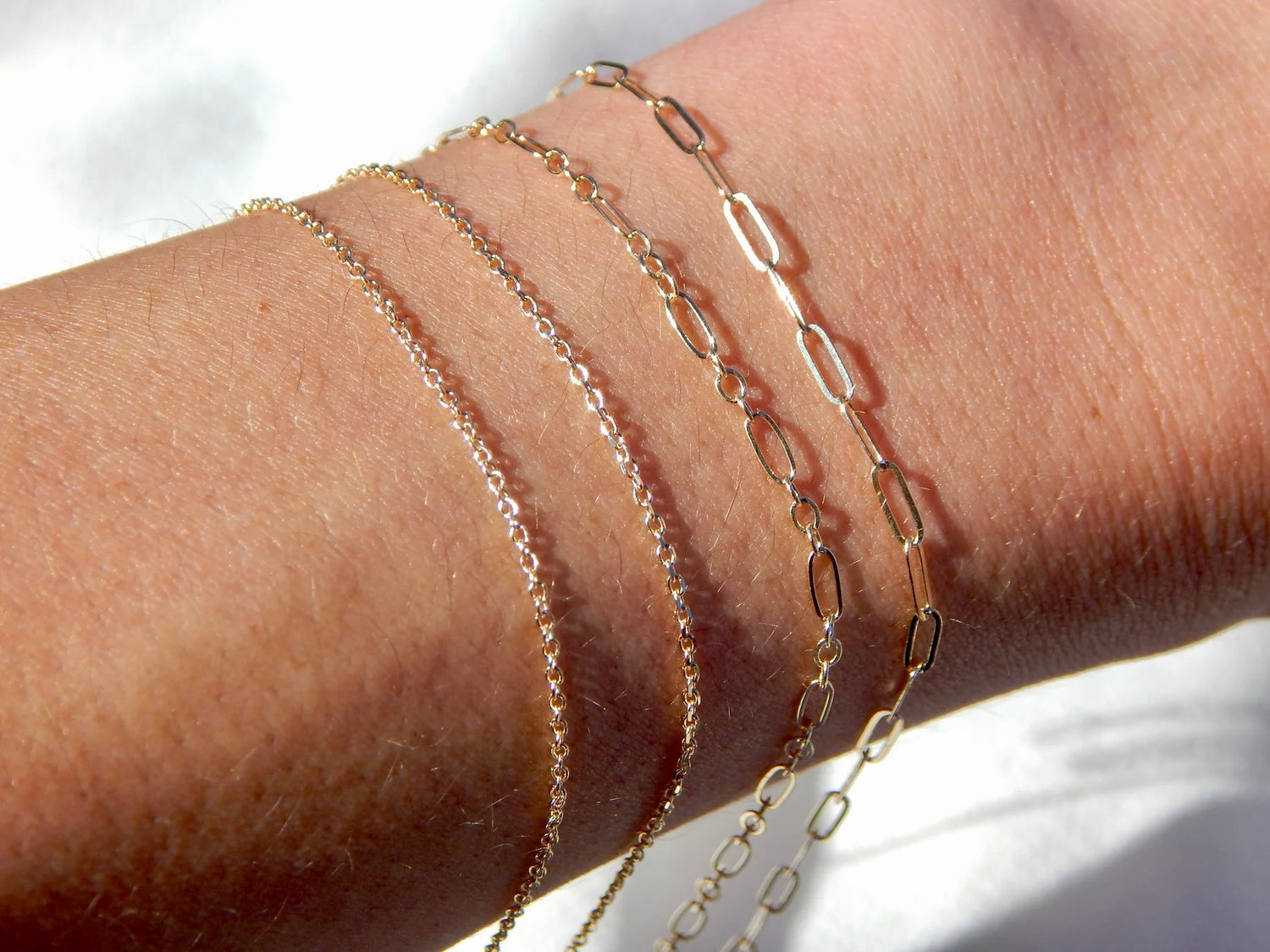 Get Linked!!
MEET YOUR NEW EVERYDAY ACCESSORY
A permanent bracelet is a dainty chain that is micro welded to create a seamless, everyday piece of jewelry.
It's a permanent reminder of a special bond, a promise, a commitment, or a special celebration that is customized to fit you and intended to be lived in and cherished.
Jovy Rockey Jewelry is now offering Permanent Bracelets in the studio. My studio is located at 76 East 3rd Street in Downtown Winona, MN.
Please use the front entrance to my retail shop, ORNO Gift + Home when you arrive for your appointment.

To book an appointment or book a pop up event use this contact form or email me at hello@jovyrockeyjewelry.com.

PRICING
Sterling Silver : $35 - $60
14k Gold Filled : $55 - $85
14k Yellow Gold : $145 - $225
Bracelet Re-Weld : $15
Pricing will vary based on the chain style you choose and is subject to change at any time.
Sterling Silver and 14k Gold Filled charm links are available for purchase during your appointment. Styles will vary.

Only permanent bracelets are offered at this time. 

You must be 8 years or older to receive permanent jewelry.

All minors must be accompanied by a parent or guardian. No exceptions.
FAQs
HOW DO I CARE FOR MY PERMANENT BRACELET?

Over time, You may find a build up of dirt & oils on your welded jewelry and charms. You can easily clean with warm water and dish soap and gently scrub with an ultrasoft toothbrush. Pat dry after cleaning. Jewelry polishing cloths like this one also work great to get them polished up and back to their super shiny selves! Otherwise, care & clean for your piece as you would with other jewelry of similar metal.

Oceans, pools & hot tubs are compatible with consideration. We recommend limiting extended contact with chlorine when possible, & always remember to rinse your pieces in the shower after a dip in the pool or hot tub sesh!

14k solid gold chain and gemstones don't require much cleaning, care or maintenance. Keep out of heavily chlorinated pools as much as possible. Chlorine can deteriorate the structure of the gold.

Take care to keep gold fill chains away from perfume, lotions, aerosols as much as possible. After time the gold bond over the Brass will begin to wear down and avoiding products will prolong the life of your jewelry.

Sterling silver is prone to oxidation in certain conditions.

The most common being chemicals (hot tub chemicals, cleaning chemicals, job related chemicals), natural hot springs, humidity and even your ph levels.

If your welded jewelry happens to run into this issue, silver cleaner or silver cleaning wipes will fix it up as good as new.
HOW LONG WILL MY BRACELET LAST?

This depends on a variety of things: lifestyle, job and other external factors. I have seen folks that have worn permanent pieces for many years at this point and they are still going strong, but this is not a guarantee of the lifespan of your unique piece.
The gold that is bonded to gold fill chain will eventually wear over time. If this is a concern, I recommended committing to a solid gold option.

If your permanent piece breaks or stretches, we will do our best to repair it. See below for our rewelding and lost jewelry protocols.
WHAT IF MY BRACELET STRETCHES?

It's possible chains may stretch over time depending on the lifestyle of the wearer, but can typically be resized for a $15 reweld fee. If a chain has been stretched beyond repair, it may need to be replaced at the wearer's expense.

If your bracelet does stretch and you want to take it off, you can remove it with a pair of clippers or kitchen scissors. Don't lose it! We cannot replace or offer refunds or discounts on lost chains, gemstones, or charms.
WHAT IF MY BRACELET BREAKS?

I do my best to ensure the integrity of the weld before your appointment is complete. However, things happen! Although these pieces are designed to be permanent, that unfortunately does not mean they're unbreakable. If the chain breaks on the weld within 48 hours of your appoinment I will fix it for free. If your welded jewelry is removed, stretches or comes off for any reason, keep the chain and contact me to book a "re-weld" appointment. There is a $15 fee for all re-weld appointments.

Please note if the chain is not in its original state & cannot easily be re-welded or if the chain has been lost, a new piece will need to be purchased. We cannot replace or offer refunds or discounts on lost chains, gemstones, or charms.
WHAT IF I NEED TO TAKE MY BRACELET OFF?

If you need or want to remove your permanent jewelry for any reason, you can snip the little ring that holds the two sides of the chain together with a pair of scissors or fingernail clippers.
WHAT IF I LOSE MY BRACELET?

Occasionally the seam of a weld may fail. In our experience this will become known within 48 hours. If the weld fails, be sure to hold onto the chain and contact me right away to schedule a re-weld appointment. I do not offer replacements of lost chains so be sure to hold onto it.

After 48 hours, I cannot offer replacements, refunds, or discounts to replace lost chains, due to the personal nature of the wearer's lifestyle, job and other external factors that are out of my control.
WHAT IF I NEED TO BE ABLE TO TAKE IT ON AND OFF?

I'm also able to offer a removable bracelet that is still custom fit to your wrist but with a spring clasp for the commitment-phobe.
If for any reason you don't want or can no longer have your welded bracelet on permanently, I can add a clasp to your previously purchased chain to make it removable for a fee.
Pricing for adding a clasp typically ranges $10-$15 depending on the metal and style.
WILL I BE ABLE TO GET THROUGH TSA WITH MY BRACELET ON?

Travelers can wear real gold or silver jewelry through airport security without any issues, and you will not be required to remove it during security screening.
Lesser quality "costume" jewelry may trigger the alarm if it contains magnetic metals (i.e., iron, nickel, and cobalt).
I dont use any chain or components that contain these materials.

DOES IT HURT?

Not at all! When I weld the chain shut, only the link gets heated for brief moment. You shouldn't feel a thing!
DO YOU OFFER EXCHANGES OR REFUNDS?

All Permanent Bracelets are custom fit to each client, therefore, there is no refund/exchange. Be sure you 100% love your selection before the chain is cut.